I let my foot down
into thin air
and it held!
Educational and preventative programs

Social training courses for juveniles and young adults
Continuing education
Social-skills training for boys and young men to help them deal with violence and xenophobia. The challenge here is to realize what it is you are actually doing, reflect upon it and then, to change.
continue reading
Develops self esteem and a sense of community through positive feedback and mutual respect; improves self-image and perception of others; lessens avoidance strategies; better collaboration; creative, active conflict resolution.
continue reading
"We slept in a stall on the ground. I also carried 35 liters of water up the mountain every day. Getting up early was not my thing but washing in a mountain stream was better than taking a shower. I learned to stick it out, even though I didn't feel like it at times".
Continue reading
continue reading
If we could only overcome the group mindset that divides us; if we could only see our own humanity; we could choose life. We could opt for life with all its uncertainties, disappointments, anxiety, and hope instead of the fatal solution that violence engenders.
continue reading
Our award-winning programs have been developed and tested by an interdisciplinary team.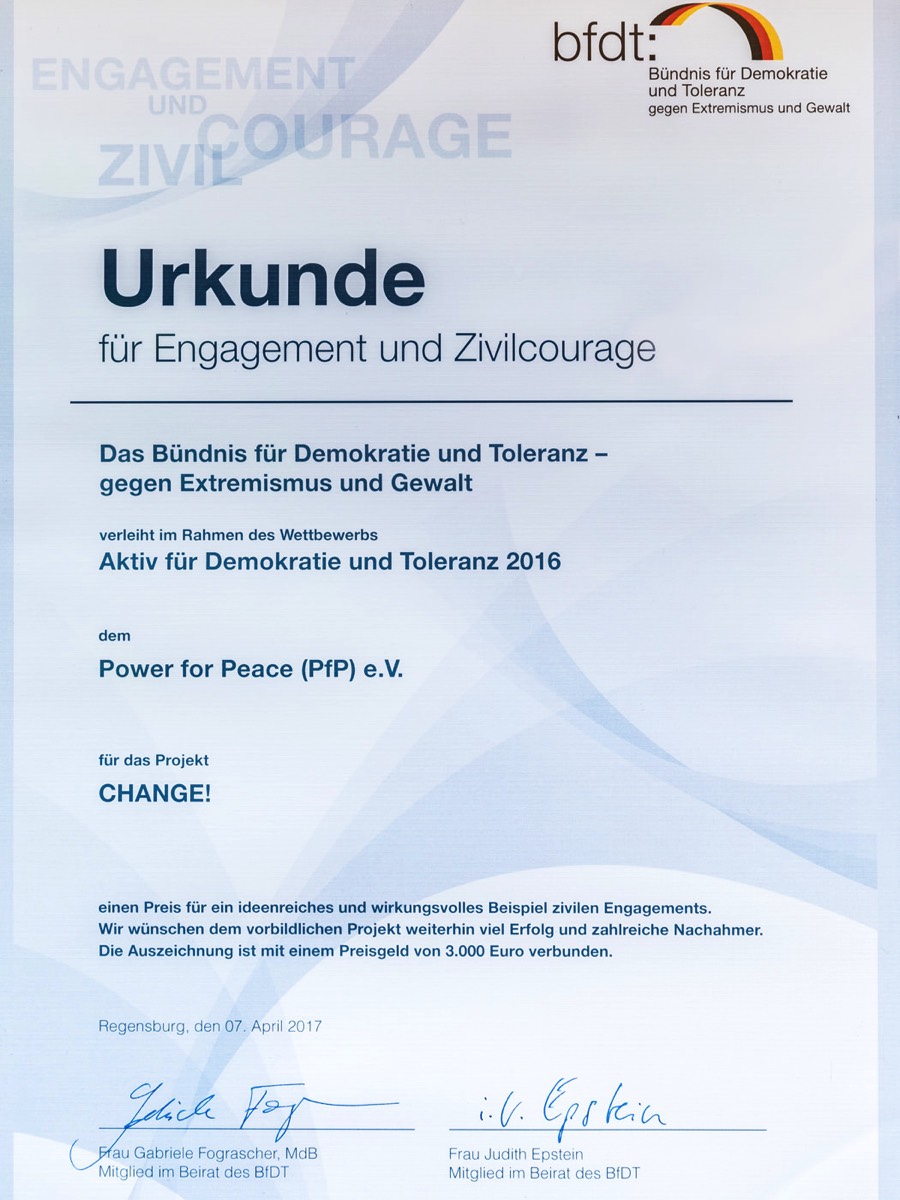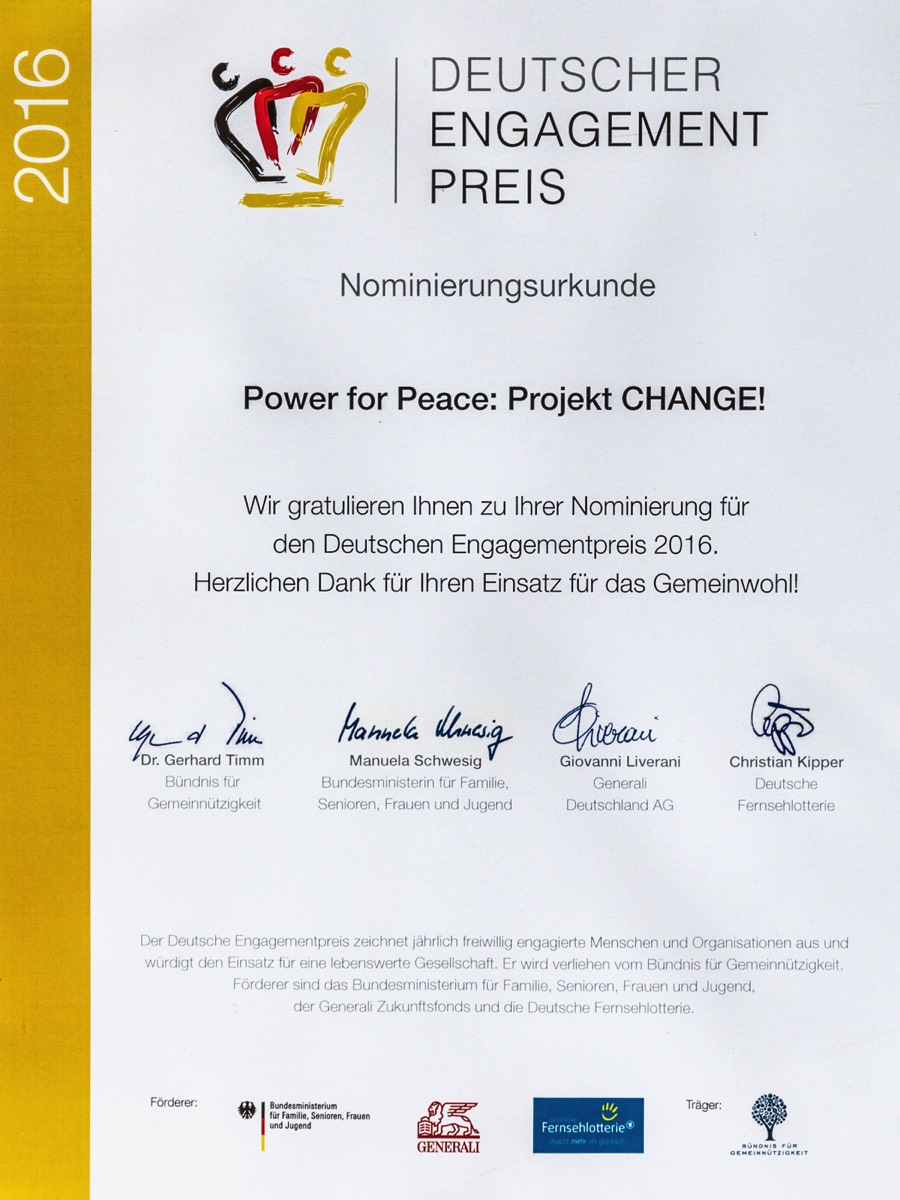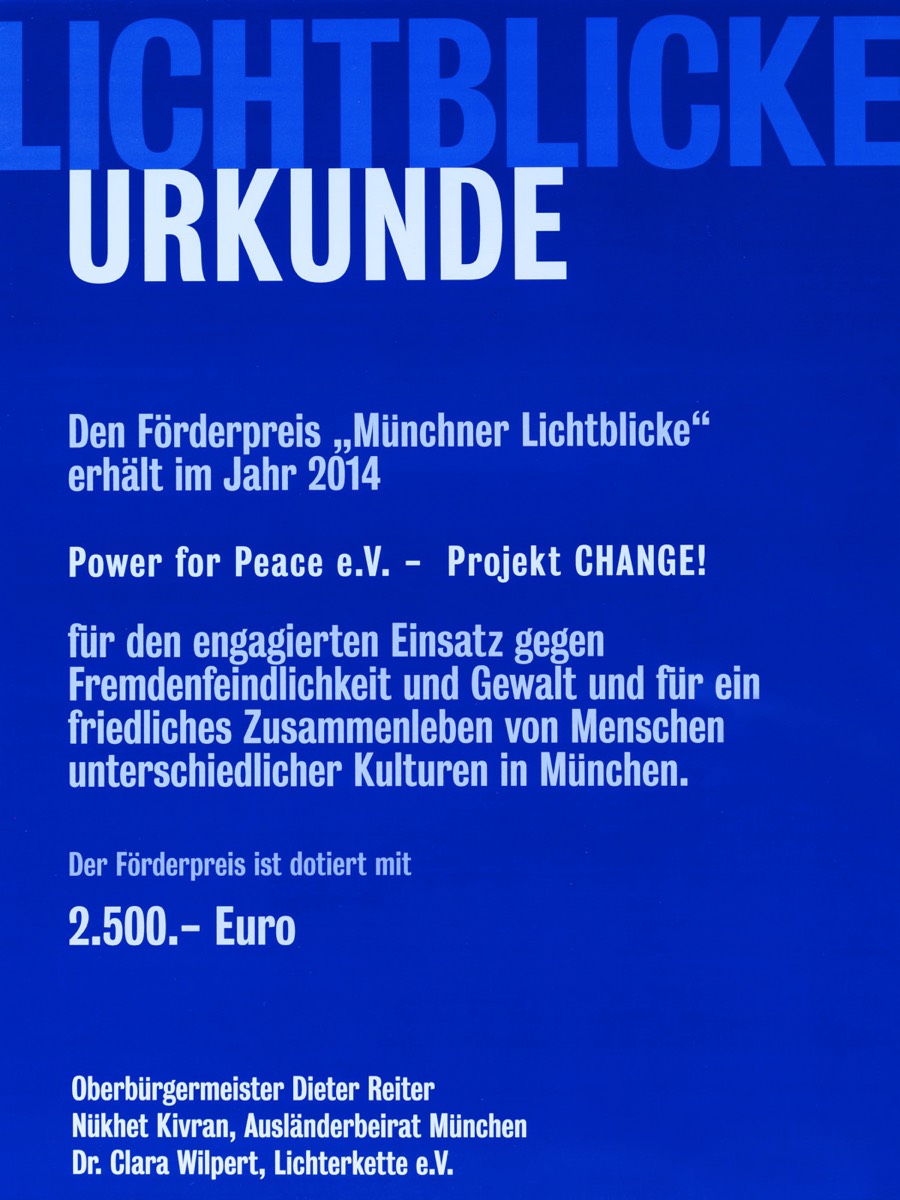 Donations

Your donation will support our work.

If you click on the link "Donate Now", you will be re-directed to the Web site of Der Paritätische Bayern.

Thank you for your support!

Donate now!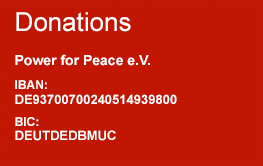 About us

We provide social-skills training for youths and young adults. We also offer continuing education for teachers and parents.


Objectives

Power for Peace helps children, teenagers and young adults get away from negative stress and conflict situations. The goal is to empower them to (re)gain control over their own life.


Recognized as a non-affiliated promoter of youth welfare.

Scroll effects list
all classes

scrollfade repeat
scrollfadedown repeat
scrollfadeup repeat
scrollslideup repeat
scrollslideleft repeat
scrollsliderigh repeat
scrollbounce
scrollbounceleft
scrollbounceup
scrollbouncein
scrollspeedin
scrollflip
scrolltada
PLUS code (awesome font)
all major classes

fa-scale-inverse
fa-scale-inverse
fa-dangles
fa-rock
fa-slip
fa-beat
fa-beat-fast
fa-pulse
fa-pulse-loop
flip vertical-50 (50/100/150/200)
flip horizontal-50 (50/100/150/200)
fade in (100/150/200/250) fa-flip-horizontal-100 (100/150/200/250 )
fa-slide-up
fa-max-50 (50/75/100/125/150/200/225/250/275/300)
fa-silver
fa-silver-dark
fa-silver-light
fa-silver-light-inverse
Text only:
fa-glow-white
fa-glow-white-in
fa-glow-white-out
fa-glow-black
fa-glow-black-in
fa-glow-black-out