I let my foot down
into thin air
and it held!

We provide training in social skills for youths and young adults, advanced courses further trainings for teachers, pedagogical trainers, educators and informational events for parents.

Power for Peace works together with schools, youth organizations, juvenile prisons, associations and institutions of higher education.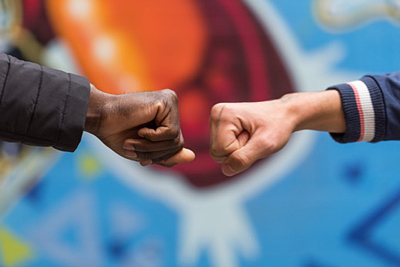 What we believe:
We believe that anybody is capable of resolving and preventing conflicts in a positive manner.
We have a right to self-determination and a peaceful existence.
We possess the strength, the will, and the courage to change for the positive.
Our Team

Usefulness, clear rules, role models, and protective factors contributing to positive personal development are in the foreground of our training programs. Protective factors include such social and emotional skills as self-confidence, self esteem, outgoingness, a sence of community and conflict-resolution skills.

Our motto is: I like you as a person, but I don't approve of your behavior!

We focus on resources, not on deficits.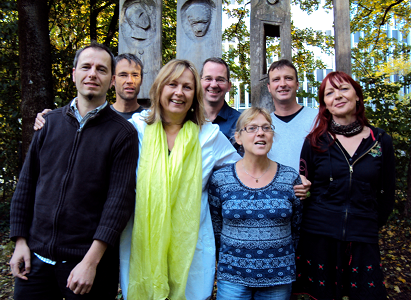 If we could only overcome the group mindset that divides us; if we could only see our own humanity; we could choose life. We could opt for life with all its uncertainties, disappointments, anxiety, and hope instead of the fatal solution that violence engenders.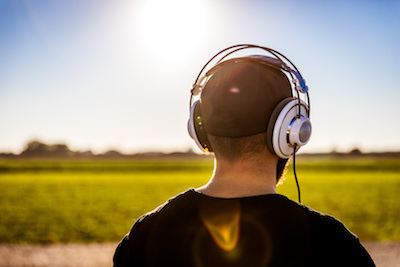 Truth and knowledge represent milestones on our way through life. Denial may make our life more convenient in the short run, but they furnish no guarantee for a happy future.

The ability to get involved for the sake of other people presupposes trust and love. If this foundation crumbles, life and even society lose their sense of purpose.
Power for Peace helps children, teenagers and young adults get away from negative stress and conflict situations. The goal is to empower them to (re)gain control over their own life.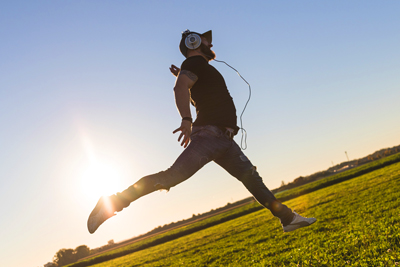 This gives rise to the following goals:
to promote a community that gives children, teenagers and young adults a sense of power and control over their own lives;
to promote self-direction and autonomy through positive reinforcement;
to devise and practice positive behaviors together;
to promote constructive communication and cooperation;
to promote an appropriate sense of self-awareness: The ability to say, " I know what I don't want! I know what I want!"
To strengthen the educational/school environment..
"The only way to get someone to change is to use the physical environment in such a way as to evoke certain responses from him. The intellect can only grow if there is an environment that challenges it to do so".
Democracy and Education, John Dewey, 1993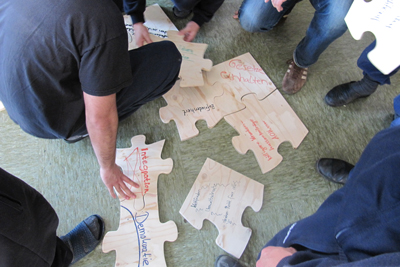 The pedagogical concept is rooted in theory but oriented toward practical application. Flexible modules adapt to individual, institutional and personal needs.

Our approach is to make use of available resources. We convey alternative ways of solving conflicts and practice them within a free framework. This facilitates things for teachers and anyone else working with heterogeneous groups, providing new impulses for lessons.

The concept is not written in stone. Materials are constantly being revised on the basis of the latest scientific developments and on the basis of training experience.

Human beings and their growth form the core of our training concepts.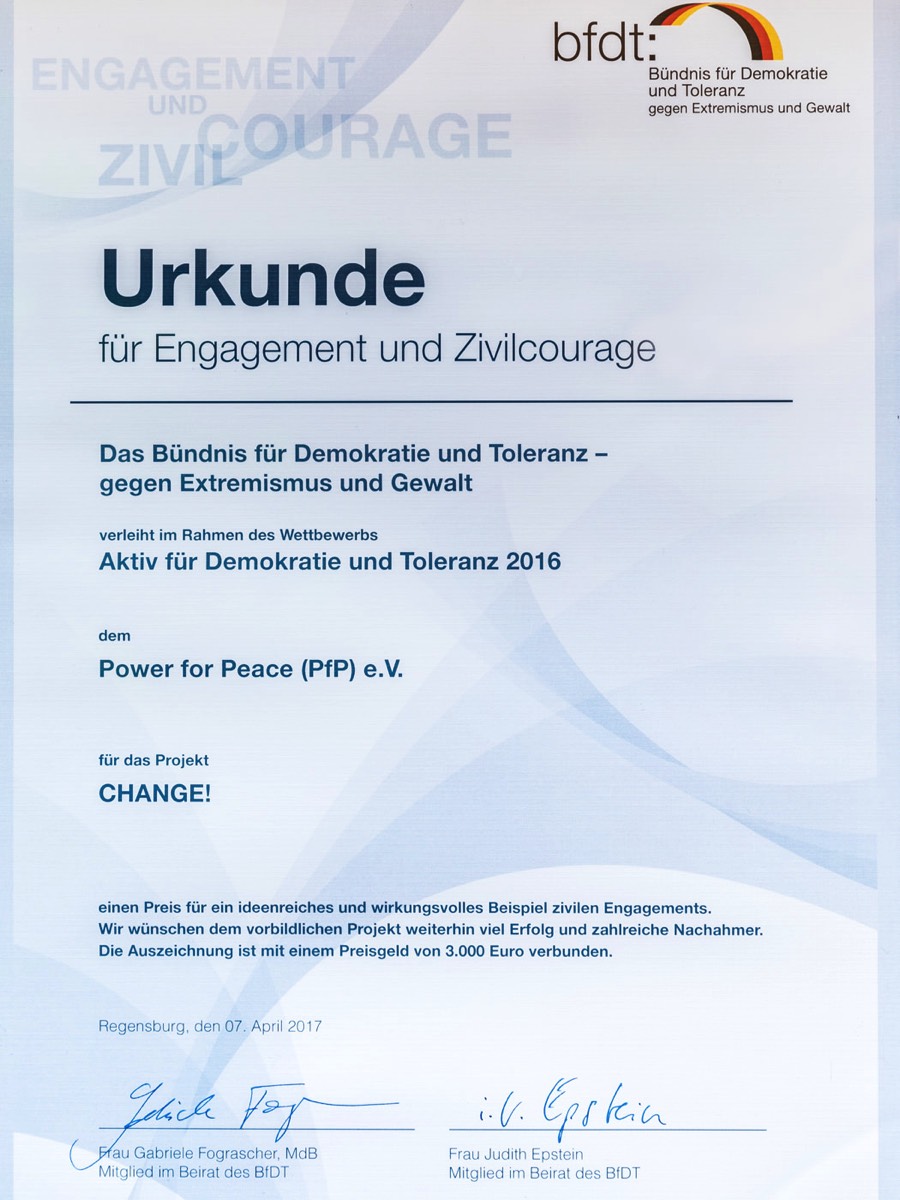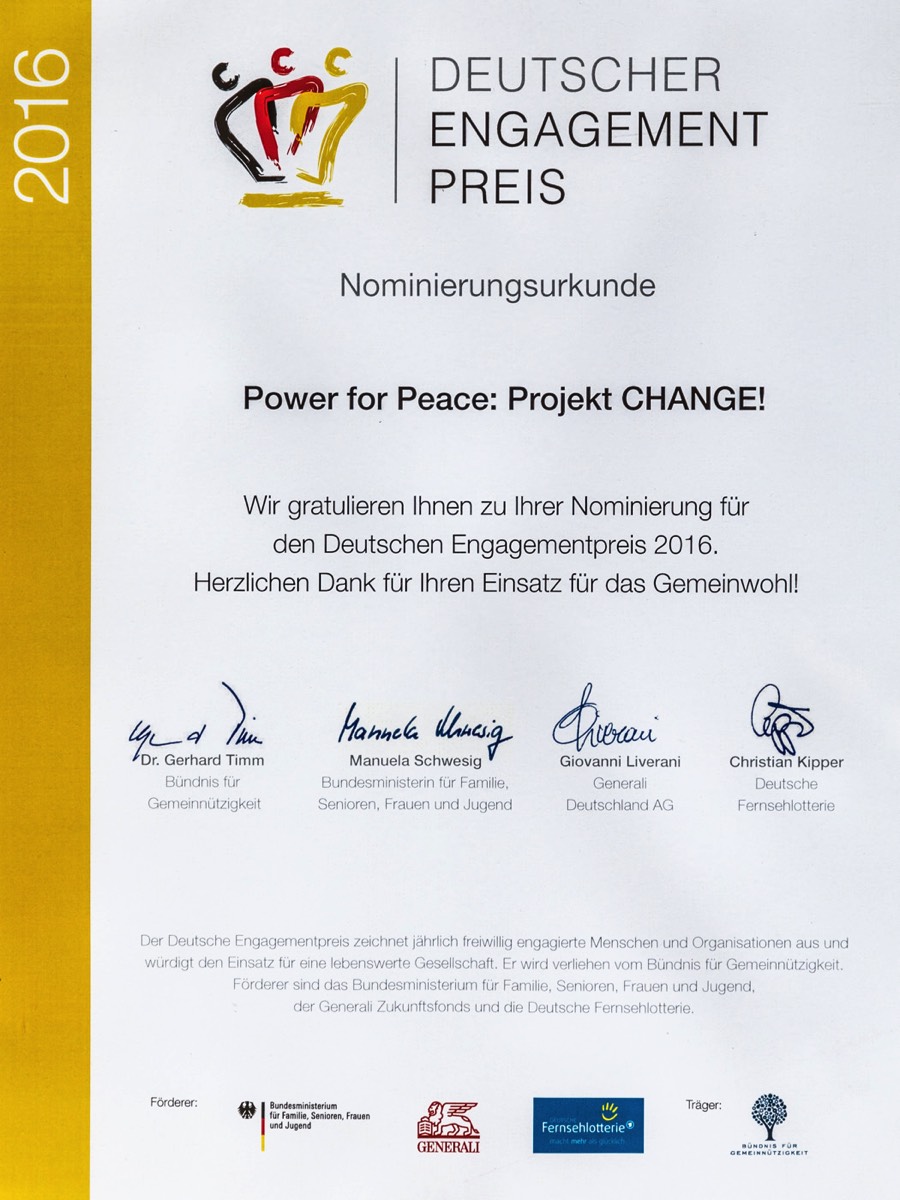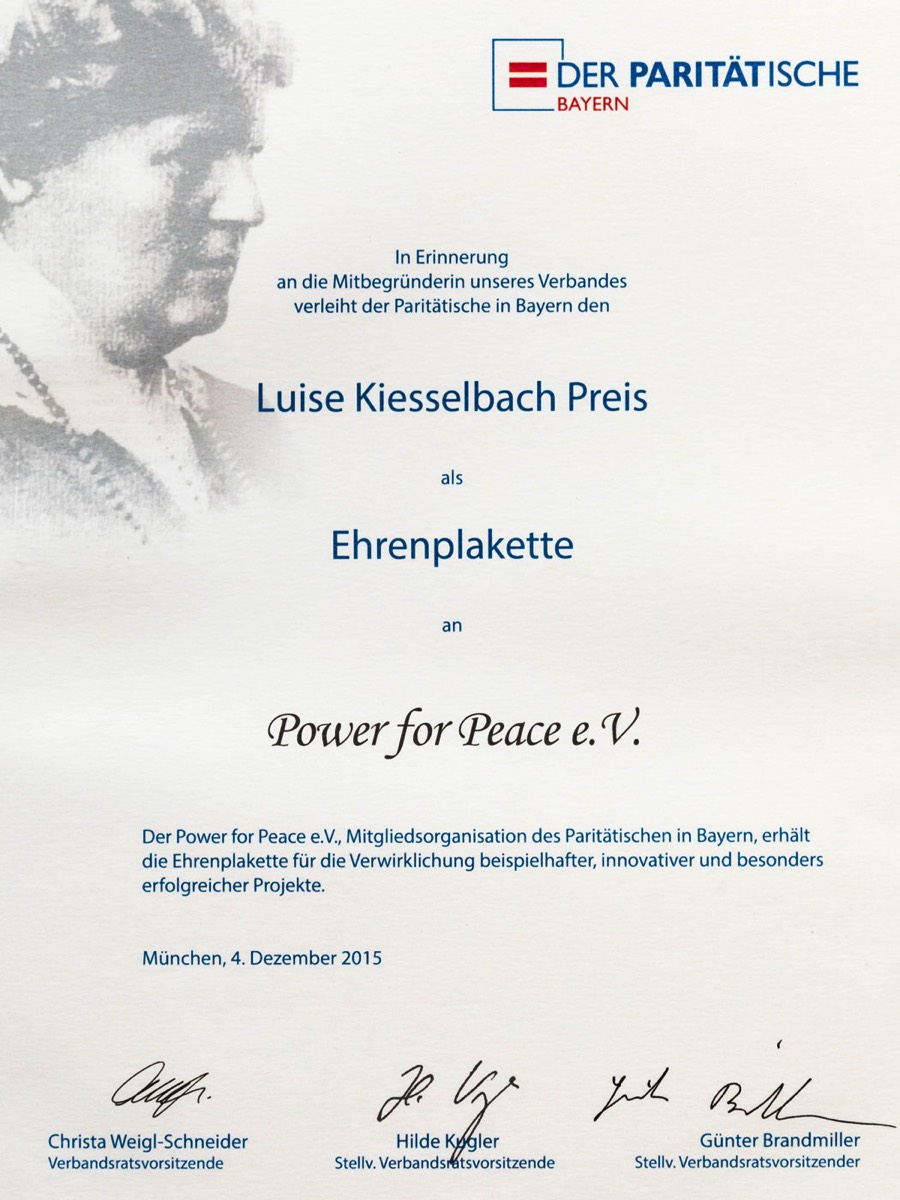 The BfDT (Alliance for Democracy and Tolerance) awarded a prize of 3,000 euros to Power for Peace in 2016 in recognition of its CHANGE! project. The Alliance cited PfP's "imaginative and effective example" of involvement for the public good.
Power for Peace was also nominated for its CHANGE! project in recognition of its involvement for the public good in 2016.
Power for Peace received the Luise Kiesselbach Prize in 2015 for carrying out "exemplary, innovative and particularly successful projects".
Power for Peace received a 2,500 euro prize from the city of Munich in 2014 for its work to counter xenophobia and violence, and for promoting the peaceful coexistence of people from different cultures.
CHANGE! Flyer and imagefolder
Our new CHANGE! Fyler and imagefolder 2018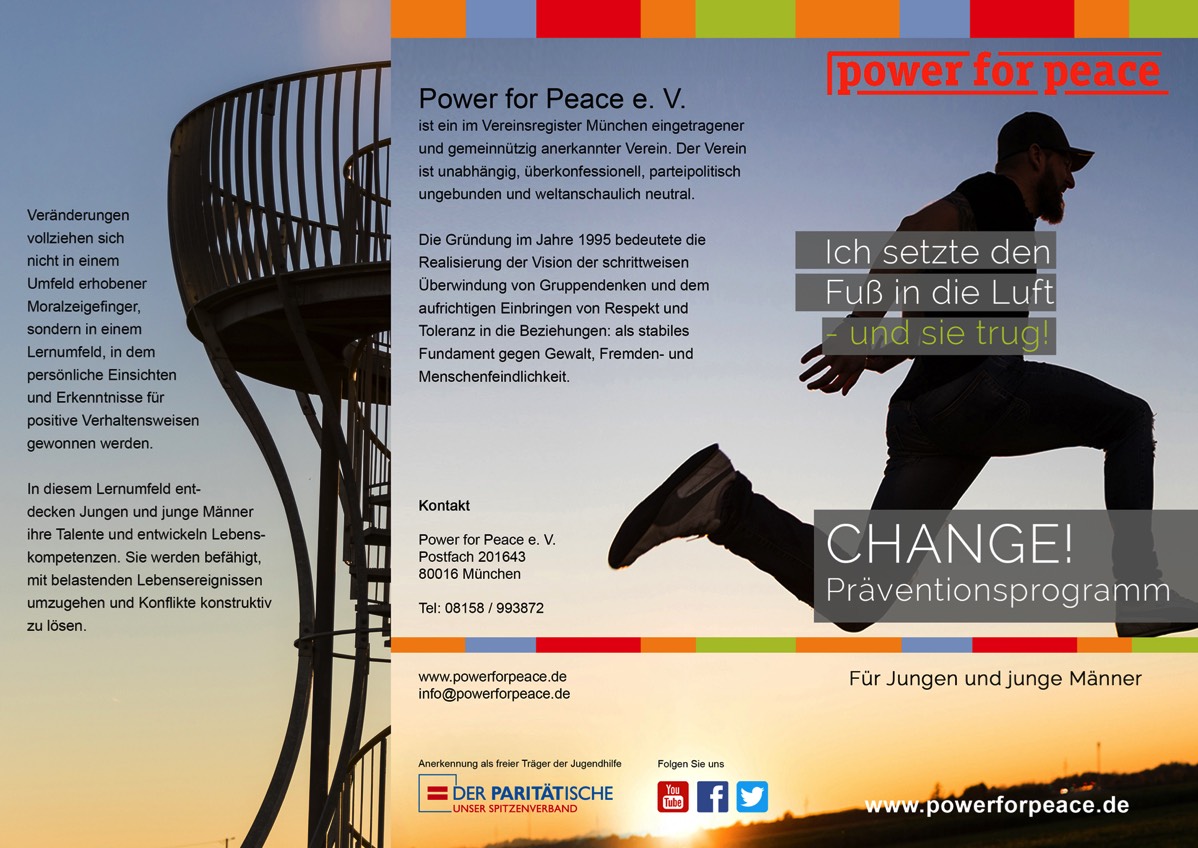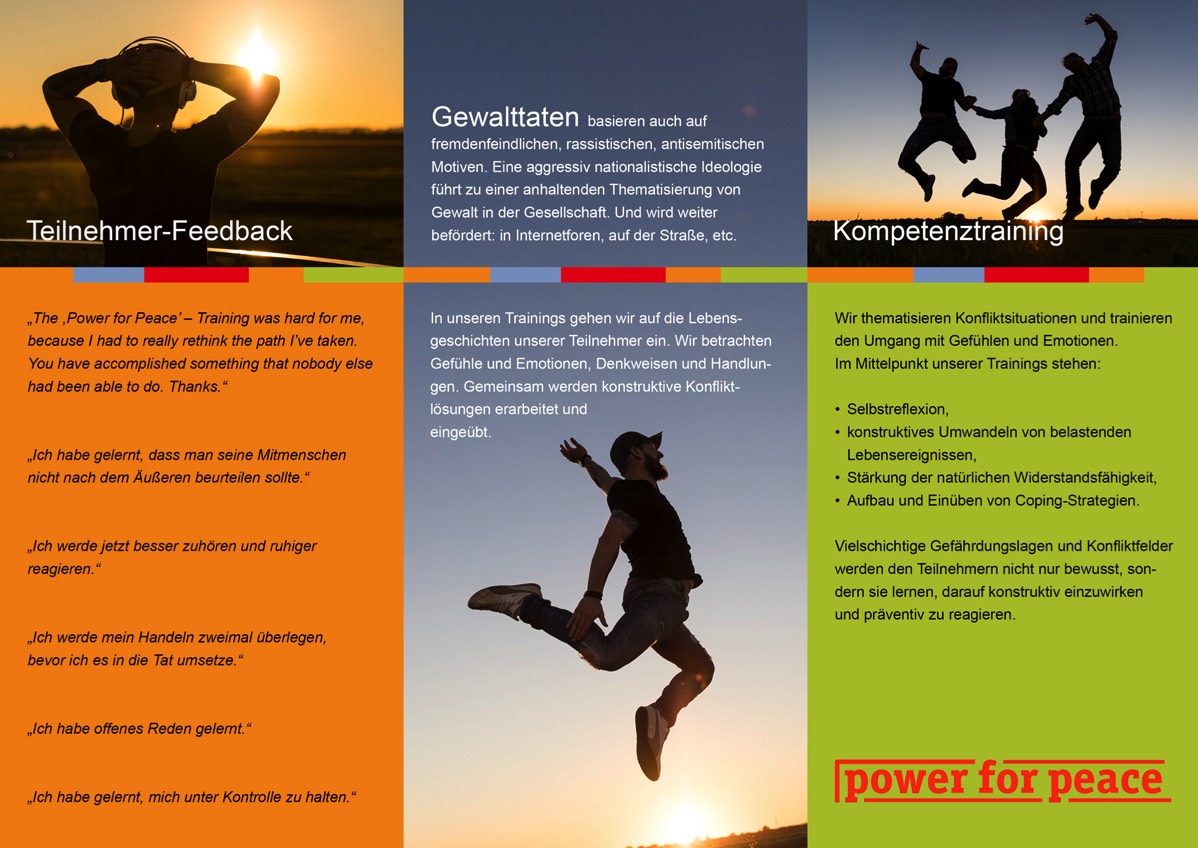 Donations

Your donation will support our work.

If you click on the link "Donate Now", you will be re-directed to the Web site of Der Paritätische Bayern.

Thank you for your support!

Donate now!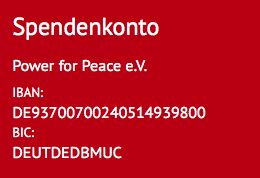 About us

We provide social-skills training for youths and young adults. We also offer continuing education for teachers and parents.


Objectives

Power for Peace helps children, teenagers and young adults get away from negative stress and conflict situations. The goal is to empower them to (re)gain control over their own life.


Recognized as a non-affiliated promoter of youth welfare.

Scroll effects list
all classes

scrollfade repeat
scrollfadedown repeat
scrollfadeup repeat
scrollslideup repeat
scrollslideleft repeat
scrollsliderigh repeat
scrollbounce
scrollbounceleft
scrollbounceup
scrollbouncein
scrollspeedin
scrollflip
scrolltada
PLUS code (awesome font)
all major classes

fa-scale-inverse
fa-scale-inverse
fa-dangles
fa-rock
fa-slip
fa-beat
fa-beat-fast
fa-pulse
fa-pulse-loop
flip vertical-50 (50/100/150/200)
flip horizontal-50 (50/100/150/200)
fade in (100/150/200/250) fa-flip-horizontal-100 (100/150/200/250 )
fa-slide-up
fa-max-50 (50/75/100/125/150/200/225/250/275/300)
fa-silver
fa-silver-dark
fa-silver-light
fa-silver-light-inverse
Text only:
fa-glow-white
fa-glow-white-in
fa-glow-white-out
fa-glow-black
fa-glow-black-in
fa-glow-black-out