I let my foot down
into thin air
and it held!

Many young people know what hardship is. They are outsiders who are forced to deal with personal or social crises. Parents, teachers and those whom they educate often feel as if they have been left in a lurch, given the demands of parenthood and schooling.

We provide support. We offer a successful approach that teaches young people tolerance and democratic values in a society with cultural diversity.
CHANGE! Prevention program
CHANGE! is a modular program for youths and young adults that focuses on prevention. The training sessions concentrate on identifying conflict situations. Groups work together to come up with constructive conflict resolutions which they then apply. The program deals with real-life situations that participants have actually experienced.
CAT - Creative and Active Training
In these mixed gender courses, young people acquire and practice social and emotional skills to prepare them for life in a globalized society.
CAMPS provide intensive outdoor training in life skills. Participants have the opportunity to practice the lessons they have learned in the CAT and CHANGE! programs, coupled with physical activity, all the while acquiring additional skills in areas like forestry or landscaping.
Donations

Your donation will support our work.

If you click on the link "Donate Now", you will be re-directed to the Web site of Der Paritätische Bayern.

Thank you for your support!

Donate now!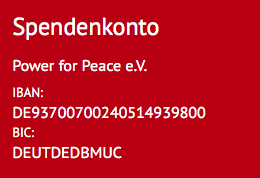 About us

We provide social-skills training for youths and young adults. We also offer continuing education for teachers and parents.


Objectives

Power for Peace helps children, teenagers and young adults get away from negative stress and conflict situations. The goal is to empower them to (re)gain control over their own life.


Recognized as a non-affiliated promoter of youth welfare.

Scroll effects list
all classes

scrollfade repeat
scrollfadedown repeat
scrollfadeup repeat
scrollslideup repeat
scrollslideleft repeat
scrollsliderigh repeat
scrollbounce
scrollbounceleft
scrollbounceup
scrollbouncein
scrollspeedin
scrollflip
scrolltada
PLUS code (awesome font)
all major classes

fa-scale-inverse
fa-scale-inverse
fa-dangles
fa-rock
fa-slip
fa-beat
fa-beat-fast
fa-pulse
fa-pulse-loop
flip vertical-50 (50/100/150/200)
flip horizontal-50 (50/100/150/200)
fade in (100/150/200/250) fa-flip-horizontal-100 (100/150/200/250 )
fa-slide-up
fa-max-50 (50/75/100/125/150/200/225/250/275/300)
fa-silver
fa-silver-dark
fa-silver-light
fa-silver-light-inverse
Text only:
fa-glow-white
fa-glow-white-in
fa-glow-white-out
fa-glow-black
fa-glow-black-in
fa-glow-black-out