Social skills develop life skills
Developing social and emotional skills are essential for a good life, success, contentment and self control. Learning and practicing these skills at an early age, it can strengthen and stabilize children and young people as they progress through life.
Life skills …
make for better learning and productivity,
promote team spirit,
reduce stress and tension,
enable one to make one's way.
Instructors:

Duration:

Methods:

Target groups:

Price:
Experienced members of the PfP training team

individually negotiable

Group and individual exercises, presentations, role plays, conflict meeting, discussions about conflict.

Teachers, social workers, counselors, trainers

Individually tailored programs
Donations

Your donation will support our work.

If you click on the link "Donate Now", you will be re-directed to the Web site of Der Paritätische Bayern.

Thank you for your support!

Donate now!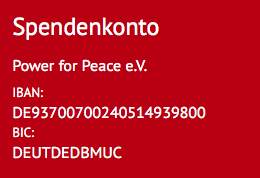 About us

We provide social-skills training for youths and young adults. We also offer continuing education for teachers and parents.


Objectives

Power for Peace helps children, teenagers and young adults get away from negative stress and conflict situations. The goal is to empower them to (re)gain control over their own life.


Recognized as a non-affiliated promoter of youth welfare.

Scroll effects list
all classes

scrollfade repeat
scrollfadedown repeat
scrollfadeup repeat
scrollslideup repeat
scrollslideleft repeat
scrollsliderigh repeat
scrollbounce
scrollbounceleft
scrollbounceup
scrollbouncein
scrollspeedin
scrollflip
scrolltada
PLUS code (awesome font)
all major classes

fa-scale-inverse
fa-scale-inverse
fa-dangles
fa-rock
fa-slip
fa-beat
fa-beat-fast
fa-pulse
fa-pulse-loop
flip vertical-50 (50/100/150/200)
flip horizontal-50 (50/100/150/200)
fade in (100/150/200/250) fa-flip-horizontal-100 (100/150/200/250 )
fa-slide-up
fa-max-50 (50/75/100/125/150/200/225/250/275/300)
fa-silver
fa-silver-dark
fa-silver-light
fa-silver-light-inverse
Text only:
fa-glow-white
fa-glow-white-in
fa-glow-white-out
fa-glow-black
fa-glow-black-in
fa-glow-black-out